Istanbul, Turkey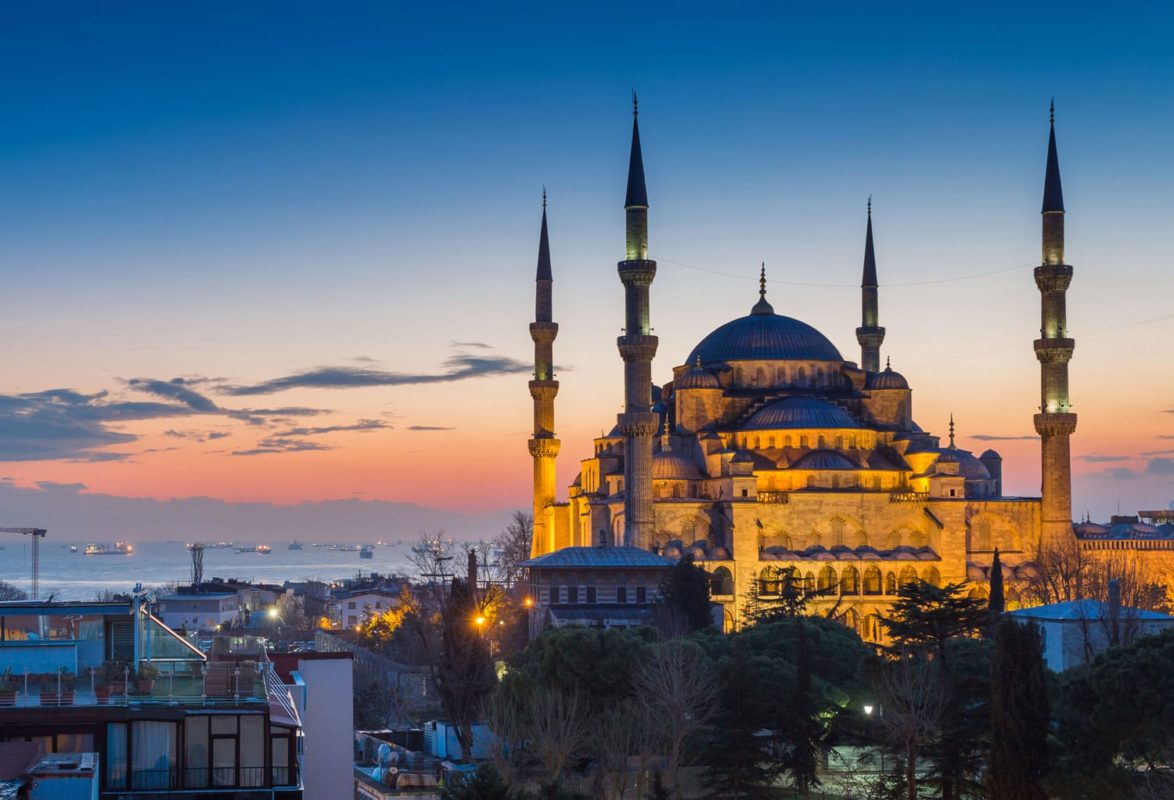 Formerly known as Constantinople, the former Byzantine Empire's capital, Istanbul is at the edges of the Asian and European continents. Its rich history, fast-paced rhythm, and delicious cuisine will transport you to another world. The best way to visit Istanbul – or any city, really – is by foot. Start your day with a simple, traditional breakfast composed of a sesame bagel-like bread – simit – with cheese and a pot of mint tea or Turkish coffee. These can be bought from street merchants, contributing to the authentic Turkish experience. After breakfast, take a walk on Istiklal street toward Galata Tower, one of the oldest towers in the world, for a panoramic view of the busy city, its many Mosques, the Aegean Sea, and Hagia Sofia, one of the most visited monuments in the world. The latter will be your next walking-tour stop.
        Hagia Sofia was a church originally dedicated to Holy Wisdom. As it stands today, the basilica was built under the reign of Emperor Justinian I (6th century). Following the Ottoman Empire's conquest of Constantinople, Hagia Sofia was converted into a mosque from 1453 to 1931. Today, it is a museum displaying a palimpsest of history and rites. To get to the Hagia Sofia, one must cross the Galata bridge, the Egyptian market, and a few streets where are found stunning Art Deco and Art Nouveau buildings in need of much renovations. The basilica itself is impressive and massive. It became the architectural model of all the prominent mosques of Istanbul.  Its marble walls, fake marble doors leading to royal sacred spaces, and highly decorative and intricate Christian mosaics make you step into history, following the footsteps of many before you. You will find yourself surrounded by gold, light, grandeur, and wonder.
        After Hagia Sofia, you can pursue your day-trip to Topkapi Palace museum and its Harem. There you will learn about the Ottoman dynasty and its sultans, through a visit of the palace's kitchen, diwan – where high officials would meet sitting on a diwan (kind of sofa) – the Harem quarters, and the Sultan's bedroom. The museum not only informs on the lifestyle and culture of the Ottomans, but its architecture is a fine example of Baroque and Islamic styles.
        At lunchtime, grab a meal at one of the many restaurants around the Palace before heading to the Basilica Cistern. Lentil soup with lemon, spicy kofta (ground beef skewers) and a glass of ayran, a drink made of yogurt, water and salt. Composed of Ionic, Corinthian, and Doric columns on water, the Basilica Cistern is a must-see. Built under Emperor Justinian's reign (6th century), the Basilica is the largest cistern of Istanbul and offers a truly remarkable and dramatic spectacle of light, water reflection, architecture, and resonance. It was also featured in many movies, including Skyfall (2012) from the James Bond Series.
        When in Turkey, a trip to a historical hammam (bath) is an absolute must. To get a full-traditional Turkish hammam experience, Cemberlitas Hamami is your best choice. This more than 500-year old Turkish bath will be the highlight of your trip to Istanbul. Not only will you feel like travelling back in time, but you will lose a lot of dead skin while enjoying a remarkably relaxing experience. On your way back to your hotel, stop at the Grand Bazaar to get a few souvenirs and traditional Turkish goods (lukum/Turkish delights, ceramics, jewellery, hammam towels, icons, etc.), while practicing the art of bargaining. The Grand Bazaar is situated next to Sultanahmet Camii (the Blue Mosque), a mosque built in the early 17th century. You can access its beautiful interior, decorated with intricate geometrical and floral Islamic motifs, from either the female or male visitors' door (unless you are Muslim and wish to pray, then you must take the faithful's entrance). To be granted access to the mosque, you need to follow the dress code (humble attire, barefoot, women must cover their head with a scarf, etc.), and always remain respectful of the space of worship.
        Conclude your active, yet perfect day in Istanbul with a copious traditional Turkish meal at Konak Kebap, along the busy Istiklal street. Wander along the street after dinner to Taksim Square, to fully immerse yourself in the busyness of Istanbul's night scene, while stopping by a little shop to treat yourself with the best Turkish delights you will ever eat.